Hi everyone, my name's Lily, and I'm an Asian anime otaku who loves to eat, sleep, and read manga. I love to meet new friends and when I'm not active on here, I'm probably pulling an all nighter (watching anime), or sleeping from that all nighter! :| School's also gonna keep me away from here too.

Anime I'm currently watching: Trickster, Magi: Adventures Of Sinbad, When They Cry, My Youth Romantic Comedy Is Wrong As I Expected,

Waiting anime: Death Note, Happy Happy Clover, Psycho Pass, School Days, Corpse Party

Friends: Katty Hatter, KawaiiLouie

For stalkers: You can also find me on CocoPPA Play and CocoPPA (but I rarely use this app). My username: Kawaii Lily😺 I've also recently joined Elsword, too! My username: KawaiiLili. Disqus username: KawaiiLili

I love: Vocaloids, anime, manga, food, salmon, and Pocky

I dislike: school, science, social studies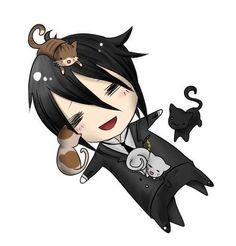 Me after a long day of watching anime...